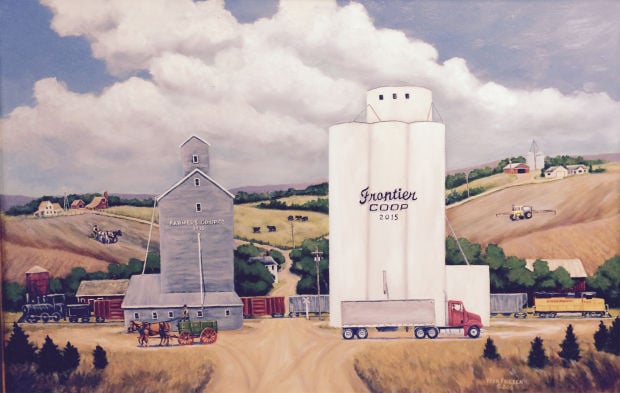 A proud past, and a promising future. That's how members of Frontier Cooperative describe the company as it prepares for one of its biggest years. The company is celebrating a century of success, as 2015 marks its 100 year anniversary.
Frontier Cooperative Company (formerly Farmers Cooperative Company), was incorporated on February 25, 1915. The company experienced growth and acquisitions for several decades, and in 1990, the Frontier Cooperative Company brand was established. The most recent merger took place with Husker Coop (formerly Farmers Coop Grain), which was effective January 2014.
Today, Frontier Coop operates in 23 grain, agricultural, and aerial locations serving east-central Nebraska, with the home office located in Brainard, Nebraska. The full-service cooperative offers products and services in grain, agronomy, feed, seed, and energy. Frontier Coop has an estimated 4,190 patron members and employs about 200 full-time and part-time staff members.
"Frontier Coop has come a long way over the past 100 years," says General Manager Randy Robeson. "As we celebrate this milestone, we remember the hard work and dedication that brought us here today."
As part of the centennial celebration, Frontier Coop has many activities planned throughout the year to commemorate this important milestone. On June 20, Frontier will host festivities in Brainard, which will include an all-day family event with live music, food and refreshments, children's activities, prizes and giveaways, helicopter rides, fireworks, and more.
"One hundred years is a big achievement, so we plan to celebrate big. This will be an opportunity to share the company's accomplishments and celebrate with those people who have continued to support Frontier and have made it a thriving business for many decades," Robeson says. "It's going to be a really exciting event for Frontier Coop and for the community."
Frontier Coop continues to invest in quality personnel, facilities, resources, equipment, and technology to ensure that its products and services are able to meet the present and future needs of area producers and consumers. Some of the most recent upgrades within the company include grain elevator expansion at the Osceola location and agronomy expansion in North Bend.
"We are continuously adapting and changing in order to keep pace with the patron, says Robeson. "This year, we look back on the hard work that got us where we are, but we need to always look ahead to make sure we are providing for the future."
Here are significant milestones in Frontier Cooperative's history:
Frontier Cooperative Historic Milestones
• 1915 Farmers Cooperative Company is formed
• 1969 Farmers Cooperative merges with Dwight Farmers Coop
• 1976 Farmers Cooperative purchases Farmers Union Coop Oil Association of Brainard
• 1977 Concrete elevator built in Brainard
• 1985 Garrison Elevator facilities purchased by Farmers Cooperative
• 1985 David City Elevator facilities purchased by Farmers Cooperative
• 1990 Farmers Cooperative merges with Farmers Union Coop of Mead
• 1990 Farmers Cooperative purchases Scoular of Weston
• 1990 The Frontier Cooperative Company name is branded
• 1997 Frontier Coop merges with Bellwood Coop
• 1998 Frontier Coop merges with Ceresco Coop
• 1998 the original wooden elevator from 1915 is removed
• 1999 Frontier Coop purchases Wagner Mills in Schuyler
• 2002 Frontier Coop purchases Fremont, North Bend, and Silver Creek locations from Peavey Grain Company
• 2007 Frontier Coop merges with Vering Feed Service
• 2010 Two 1.34-million bushel bins completed in Brainard and David City- Yanka locations
• 2014 Frontier Coop merges with Husker Coop
• 2015 Frontier Coop celebrates 100 Year Anniversary
Be the first to know
Get local news delivered to your inbox!