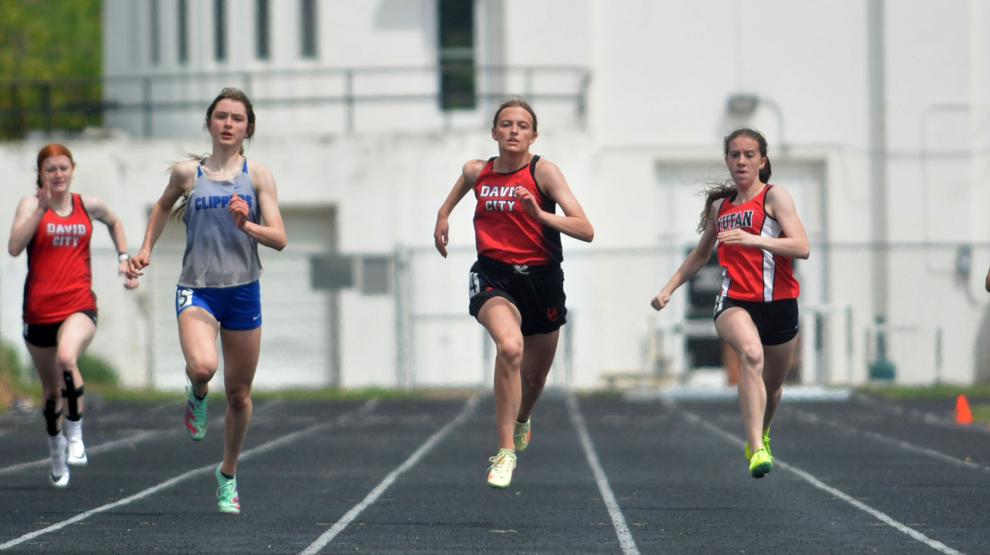 David City track and field competed at Memorial Field in Thursday's District C-2 meet for a chance to qualify for the NSAA Class C State Track and Field Championships. The top two individuals and the best relay automatically qualified for state.
Scout seniors Avery Couch and Caden Denker qualified for their third state meet while senior Barrett Andel and freshman Kambri Andel will compete at Burke Stadium in Omaha for the first time.
Kambri qualified for the most events, securing her spot in three events. The freshman won the district title in the long jump with a mark of 17 feet, 3.75 inches.
She finished as the 200-meter dash district runner-up, crossing the finish line in 26.58 seconds. In the 100, Kambri clinched bronze and a spot as an additional qualifier with a personal record time of 12.61 seconds.
"I'm super excited to go to state because I'm excited to see all the competition," Kambri said. "Just knowing I get to compete against the top people in the state is super exciting."
David City girls head coach Tali Reeves knew Kambri had the ingredients to be successful at the high school level. Kambri said she exceeded the expectations she set for herself before the season.
"Long jump, at the beginning of the year, wasn't going exactly how she (Kambri) wanted. She really found a groove and broke the school record and starting winning some meets," Reeves said. "Sprint-wise, she just goes out and competes. That's really all I can ask. She doesn't look too intimidating, but she really shows it when she goes out and runs."
Kambri won the long jump by 1 foot, 7.5 inches over North Bend freshman Mila Anderson. Wahoo Neumann freshman Kerstyn Chapek won the 100 and 200 with times of 12.43 and 25.43 seconds, respectively.
"I just knew I had to stay relaxed," Kambri said. "I think I just trusted my technique and I think I did better than I expected considering the pressure. I ended up PR'ing in the 100 and I just stayed relaxed in the 200 and long jump."
While she'll compete at Burke for the first time, Kambri said she's attended the meet as a spectator giving her an idea of what the atmosphere is like at Burke.
"I definitely hope to set some PRs," Kambri said. "There's going to be so much competition and I think that's going to push me and I just have to stay relaxed and trust the process."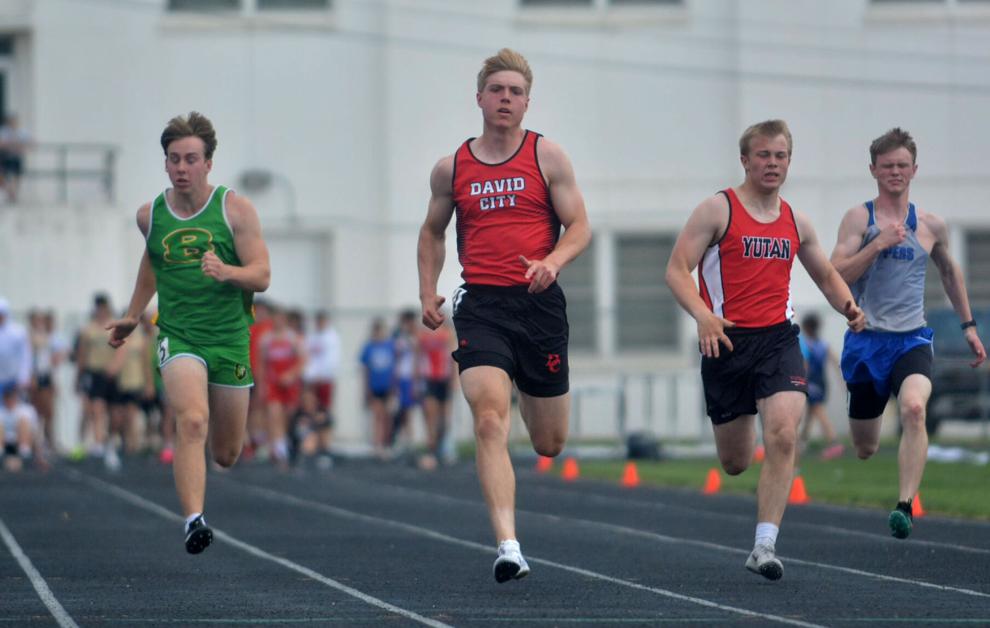 Denker qualified for the 100 and 200, winning the district title in both events. The senior squeaked out the 100 district title over Aquinas Catholic sophomore Bryant Stouffer by 0.003 seconds with a time of 10.891 seconds. 
In the 200, Denker won by 0.57 seconds over Stouffer with a time of 22.32 seconds.
"I would say it's a bittersweet moment for me because yes I'm going back to compete in the 100 and 200, but those relays I would have liked to qualify in both," Denker said. "I know we had a shot in both. Things just didn't quite work out the way we wanted to, but I'm still very excited to go compete in two events and see what I can do."
Denker has competed all season as the No. 1 seed in most meets. The pressure of everyone chasing him to win gold medals, he said, has helped prepare him for what he'll see in Omaha this week as one of the state title contenders.
"It's hard to show up to every meet and you're seeded the best," Denker said. "There's kind of some pressure sometimes, but I just got myself together for every race and did what had to be done and hopefully I can do the same thing as state." 
After qualifying for the state 200 and 400 last year, Scout boys head coach Dillon Nerud said Denker has focused primarily on the 100 and the 200.
"He's (Denker) been very consistent I think. He's on the right path. On Thursday, I thought he ran well. Good set-up for state I think," Nerud said. "This year he looks super strong. He's setting himself up and kind of being doing well as the year kind of progressed."
Last year, Denker won silver in the 200. As the top returning state qualifier in that event in Class C, Denker's goal is to stand atop the podium.
"To prepare for this week's meet, I'm going to do everything I need to do," Denker said. "When I show up to Burke, I'm expecting to walk away with gold medals."
Couch qualified for the state triple jump for the third straight year on Thursday. The senior won the district title by nearly 2 feet with a mark of 35-1.
Thursday was only the third time Couch competed in the triple jump this season as she battled injuries. The senior will look to get back on the medal stand after winning bronze in 2021 and missing the finals last year placing 10th.
"I think just being level-headed, consistent and getting into the finals and trying to earn that medal is the biggest key for her," Reeves said.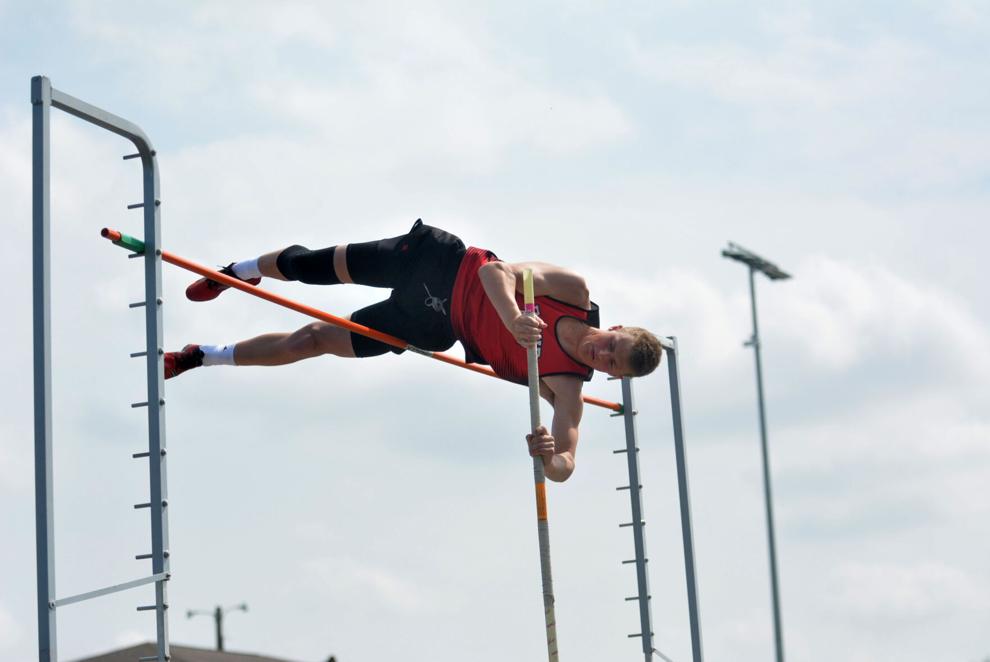 For the first time in his career, Barrett qualified for the state track and field meet after completing the pole vault Thursday as the district runner-up with a height of 12-1.
Last year at districts, Barrett placed fourth with a mark of 10-3. The senior has steadily improved throughout the season, achieving his personal best on Thursday. Nerud attributed Barrett's improvement to him just being healthy.
"Last year a couple weeks before district, he had an ab injury which might have played a role at districts. He had a little mishap just random tweak a couple days before districts, but the kid's tough," Nerud said. "One of the toughest kids I've ever met and he battled through it. He PR'd twice and made it to state, which made everyone excited."
The NSAA Class C State Track and Field Championships begin Friday at Burke Stadium in Omaha. Kambri will compete in the long jump at 9:30 a.m. with her and Denker running in the 100 and 200 prelims at 3:05 p.m. and 6:30 p.m. respectively.
On Saturday morning, Barrett will compete in the pole vault at 9 a.m. with Couch competing in the triple jump at 9:30 a.m. The running finals will be Saturday afternoon.
Sam Ficarro is a sports reporter with The Banner-Press. Reach him via email at DVDsports@lee.net.